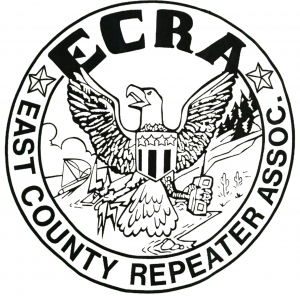 Notice – Please join us for our next regularly scheduled meeting on February 3, 2020. Early arrivals usually show up around 6:00 p.m. for dinner.  Meeting starts at 7:00 p.m.. 
8/22/2019 – Notice – The 447.800 repeater and remote base is currently offline for reconfiguration. We apologize for any inconvenience. Please check back here for updates.
11/26/2019 – Notice – The 147.030 repeater is back on the air. Please feel free to use it.
East County Repeater Association (ECRA) is a non-profit membership organization that provides both member and non-member licensed amateur radio operators access to a family of professional quality VHF and UHF repeaters, located on several San Diego and Imperial County mountain tops.
ECRA owns and operates 11 VHF and UHF Amateur Radio Repeaters in the Southern California area, with these locations, ECRA's repeaters provide excellent coverage of virtually all of San Diego and Imperial counties. ECRA, along with the Arizona Repeater Association, comprise the CalZona Link, with coverage from San Diego to Phoenix, Arizona.
Following the amateur radio tradition, all of ECRA's repeaters are OPEN, which means that any properly licensed radio amateur may use the systems, whether they are a sponsoring member of the club or not. This policy does not extend, however, to the premium features of the systems, such as auto patches , remote bases, etc. These features are reserved for club members.
ECRA Founded in 1982.