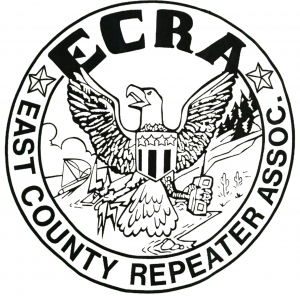 5/9/2020: Trivia Net starting Wednesday May 13 at 7:00 pm. Pat KD6PZB will be net control. This will be a weekly net. Rattlesnake peak repeater 147.765 (-)        PL 79.7
04/28/2020 – Notice – due to the Corona virus and subsequent San Diego County restaurant "Dine in ban", the club general meeting originally scheduled for Monday, May 4, 2020 is cancelled. Instead of meeting in person ECRA will be holding another "On Air" check in, meeting and round table at 6:00 pm. The 447.800 UHF repeater on Palomar mtn will be linked up to the 147.765 VHF repeater on Rattlesnake peak in Santee for the event. All ECRA members are encouraged to participate using either of those repeaters when transmitting. All licensed non members are also encouraged to check in.
We have no estimate how long this ban will last but as soon as we know more we will let you know and post the date of the next general meeting.  Also, the ECRA board meeting originally scheduled for Friday, March 20, 2020 has been changed to a conference call.  
03/18/2020 – Documentation for the remote base commands is currently being edited and will be distributed to members when complete.
02/25/2020 – Notice – The board of directors has re-established access to the PayPal account and the P.O. box 710611. If you have any questions about a PayPal transaction please E-mail them to the address below. We will be checking the box every few days. We apologize for any inconvenience this may have caused.  
2/3/2020 – Notice – The 447.800 repeater is operational once again. Thank you to everyone in the ham community who helped to bring this repeater back to life and thank you to all hams for your patience!
2/3/2020 – Thank you to all member donations and dues. We sincerely appreciate your efforts to support the club!
11/26/2019 – Notice – The 147.030 repeater is back on the air. Please feel free to use it.
East County Repeater Association (ECRA) is a non-profit membership organization that provides both member and non-member licensed amateur radio operators access to a family of professional quality VHF and UHF repeaters, located on several San Diego and Imperial County mountain tops.
ECRA owns and operates 8 VHF and UHF Amateur Radio Repeaters in the Southern California area, with these locations, ECRA's repeaters provide excellent coverage of virtually all of San Diego and Imperial counties. ECRA, along with the Arizona Repeater Association, comprise the CalZona Link, with coverage from San Diego to Phoenix, Arizona.
Following the amateur radio tradition, all of ECRA's repeaters are OPEN, which means that any properly licensed radio amateur may use the systems, whether they are a sponsoring member of the club or not. This policy does not extend, however, to the premium features of the systems, such as auto patches , remote bases, etc. These features are reserved for club members.
ECRA Founded in 1982.